Here are the graphic medicine books coming out in July 2020 as well as the books that came out in June. I spent June recovering from a surprise surgery. These lists will be about books that I have not yet read. If I have had the opportunity, I will let you know what I thought. If you have read one or more, please leave a comment about what you thought!
Bookshop.org supports indie bookstores. I have become an affiliate of them. This means if you click on these links and purchase the book, I will receive a 10% kickback. Buying the book this way means you will be supporting me as well as indie bookstores. If you have any questions or concerns about this, let me know. You can find lists for graphic medicine books out each month as well as a list of major graphic medicine books. I will keep adding to this list.
Last month I was laid up after emergency surgery. I'll start out catching up with books that came out in June 2020.
Dancing After TEN by Vivian Chong and Georgia Webber
Release Date: June 2, 2020
Vivian Chong rebuilds after a rare skin disorder, Toxic Epidermal Necrolysis, leaves her blind. She uses art to recover and discover herself. Georgia Webber (creator of Dumb: Living Without a Voice) helped Vivian Chong to make this graphic memoir happen.
Everything is an Emergency: An OCD Story in Words and Pictures by Jason Adam Katzenstein
Release Date: June 30, 2020
This book is filled with snippets of Jason Adam Katzenstein's life dealing with OCD and anxiety. It includes stories of trying exposure therapy and medication to cope with his mental health issues.
Edited to add (7/15/2020):
Pathographics: Narrative, Aesthetics, Contention, Community edited by Susan Merrill Squier and Irmela Marei Kruger-Furhoff
Release Date: June 8, 2020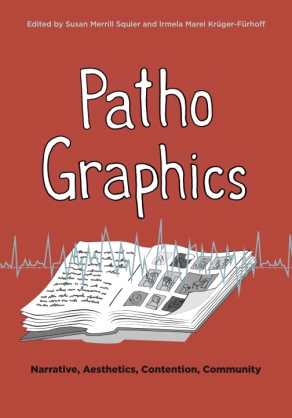 PathoGraphics is a collection of essays, stories, and comics about disability and illness. It is a health humanities text.
Happiness Will Follow by Mike Hawthorne
Release Date: July 21, 2020
Mike Hawthorne shares his story about being Puerto Rican in the US. As the victim of abuse, he finds art as a way to heal.
The Loneliness of the Long-Distance Cartoonist by Adrian Tomine
Release Date: July 21, 2020
This memoir lets the reader journey with Adrian Tomine through a sudden illness and existential crisis. He writes about his life and about using art to heal.
One Story (Unastoria) by Gipi
Release Date: July 28, 2020
One Story has been translated to English from Italian, originally published in 2013. It is a story of trauma with narratives set in modern day and during WW1.
Wear a mask if you have to go out. In fact, you can find graphic medicine masks at the Graphic Medicine shop on Redbubble.For comics about COVID-19, go to graphicmedicine.org/covid-19-comics/.
If you know of any that I missed, leave a note in the comments! Thank you for reading. If you would like to support me financially, I have a Patreon.